STEP products were developed over time to satisfy three different components: uses cost-effective, easily accessible materials; production can be completed on-site in a team environment; and provides a quality, desirable product to customers.
STEP gladly accepts the following items to be used in the production of both Fire Starters and Rugs: wax candles, denim jeans, cardboard toilet paper rolls, and art/craft materials. These items may be dropped off at any of our thrift stores or at our administrative office in Browerville.
All product sales help support our programming and services. Our clients are excited to sell their products and appreciate your support!
Our on-site work team enjoys creating these terrific Fire Starters from recycled materials. STEP Fire Starters light easily - even in windy conditions, burn for about 15 minutes, and are the perfect starter for fireplaces, grills, furnaces and fire pits. Fire Starters are also a great addition to your car's winter survival kit.
Fire Starter packages are sold in either 6 or 12 packs and we offer quantity discounts.
Purchase Fire Starters online, at all STEP thrift stores, and at select convenience and hardware stores throughout Central Minnesota.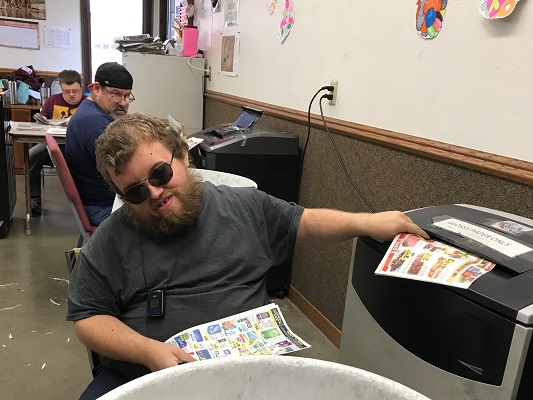 ALWAYS BE PREPARED
Make sure to replenish your Fire Starter stock regularly. And remember to keep a few on hand for last minute gifts!
STEP now has two looms up and running in our new weavery space in Browerville. Our workers have mastered each step of the creation process from cutting strips of denim from jeans, sewing the ends, winding balls, and weaving on the looms. It is a remarkable process to watch.
Our rugs are beautiful, durable, and highly functional. Each rug is truly unique and crafted with love. They are completely machine washable. Simply wash in cold water and tumble dry on low. STEP rugs will last for many years.
Available in all four of our thrift store locations.
A Beautiful Household Staple
STEP rugs are colorful and durable. Use them in every room of the house.