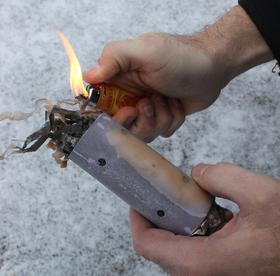 Fire Starters
Picnics. Fire Pits. Winter Survival Kits. Grills.
Our hand-made Fire Starters are the perfect way to get your next fire going quickly and easily. They burn for up to 15 minutes - even in wind!
Make sure to always have a supply of STEP's own Fire Starters on hand. They are economical, lightweight, and versatile. And by buying from STEP, you can feel great about supporting training, services, and education for disabled adults.
How Fire Starters are Made
Fire Starters are made by hand by STEP clients with the support of our support personnel. Our clients enjoy creating Fire Starters and are proud to share their work with you. It's a group effort with everyone playing role in production!
Each Fire Starter is made from recycled materials: candles, toilet paper rolls, newsprint, and craft supplies.
Karen readies the newsprint for shredding. Bucky handles the shredding. Nathan punches holes in the rolls, James dips the fire starters and David bags them. Then they move to our Thrift Stores and other retail outlets in Central Minnesota to be sold to consumers.
Sales of Fire Starters help support STEP's programming and services.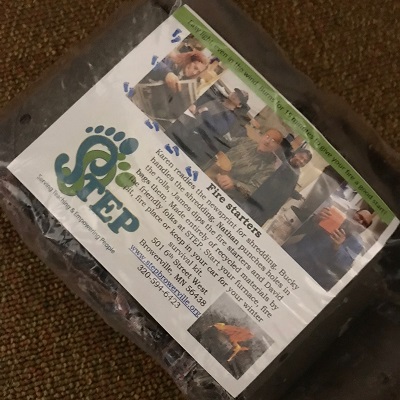 Fire Starters Quantity Discounts
We are now offering quantity discounts. The more you buy, the better your pricing gets! Packages contain either 6 or 12 firestarters.
Shipping charges are calculated at the time of order. Shipping is by Spee-Dee Delivery within the 5-state area. Your invoice will be included with your delivery.
1 - 10 packages
$3.50
each
11 - 25 packages
$3.00
each
26 - 50 packages
$2.50
each
50+ packages
$2.00
each
1 - 10 packages
$6.00
each
11 - 25 packages
$5.00
each
26 - 50 packages
$4.00
each
50+ packages
$3.00
each
DON'T BE LEFT IN THE COLD
Order your Fire Starters today!