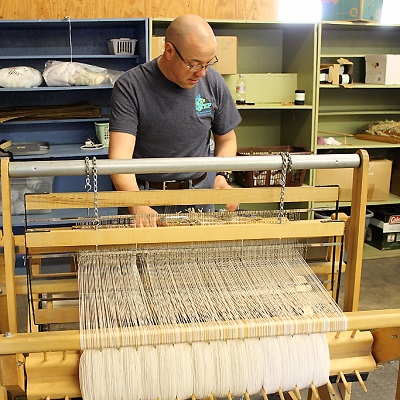 Hand-Loomed Rugs
Rugs. They are a handy, common household item. Rugs can cheer up a home and keep the dirt off your floors. 
What if your next rug purchase could do even more? Buy a STEP rug and you will repurpose unwearable clothing, create jobs, give workers training, and make our community a better place to live. A pretty amazing list of accomplishments - all from buying a household staple!
STEP rugs are made by hand from recycled fabrics. Our rugs are beautiful, durable, and highly functional. Each rug is truly unique and crafted with love. 
Creating Rugs
It's a team effort! Our clients take pride in their artwork. They have learned to measure, cut, organize, and sew the fabric strips to prepare them for the looms. Our on-site workroom now has two working looms available. Want to see pride in craftsmanship? It's alive and well at STEP and it is a remarkable process to watch.
Sales of rugs build their self-confidence and help builds independence. Proceeds fund our programs and help pay workers for their efforts.
Care and Maintenance
Machine wash cold. Tumble dry low. Enjoy a long time.
Where to Buy
STEP Hand-Loomed Rugs are available in a wide-variety of mixed colors. You are sure to find one in your favorite color and to match your home decor. They are even sold in a variety of sizes.
 A wonderful selection of rugs can be found at any of our thrift store locations. Stop in and get yours today!